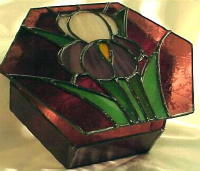 IRIS GLASS BOX - $52.00 SOLD
This hexagon box is a style that I make now and then. Any color combo or style/theme can be requested. The box measures approximately 10" across and 3" high. I have done them in racing, butterflies, Christmas, flowers, birds etc. You tell me!
PLUM MIRROR - $145.00 SOLD
This stained glass mirror measures approximately 14" across and made from plum, black and clear iridescent glass. The finest in deco - ating!
Resides in private collection.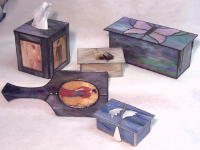 GLASS BOX GROUPING - SOLD
These are examples of glass boxes and hand mirrors I make now and then. A color combo or style can be requested. The price ranges from $35-52.00